1865 Confederate Civil War newspaper w BATTLE OF FRANKLIN-Nashville TENNESSEE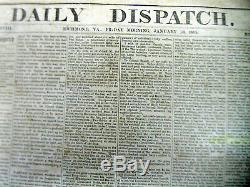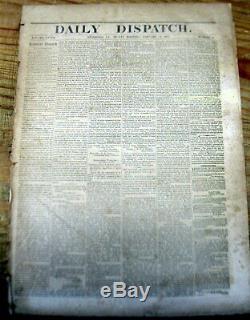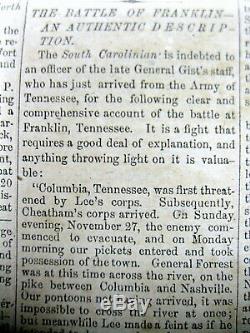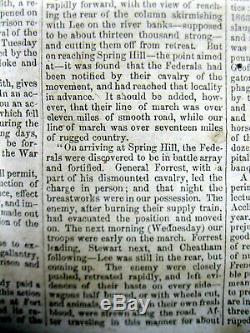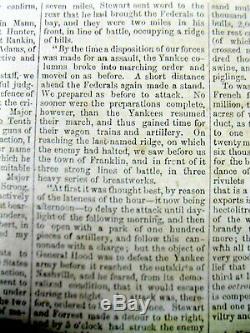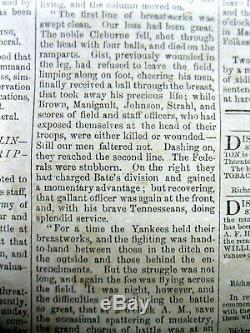 1865 Confederate Civil War newspaper with a front-page headline report of CONFEDREATE GENERAL JOHN B HOOD & the BATTLE OF FRANKILN, Tennessee - inv # 3H-210. SEE PHOTO----- COMPLETE ORIGINAL Confederate Civil War newspaper, the. Richmond Daily Dispatch (VIRGINIA) dated January 13, 1865. This has a front page detailed report on. Confederate General JOHN BELL HOOD and the FRANKLIN-NASHVILLE Tennessee CAMPAIGN. Confederate Civil war newspapers are. Much scarcer than Union Civil War newspapers and the demand for them is quite high. They generally do not have the large display headlines as seen in Union Civil War newspapers but their anti-Yankee editorial text and commentary are priceless. The Battle of Franklin was fought on November 30, 1864, in Franklin, Tennessee, as part of the Franklin Nashville Campaign of the American Civil War.
It was one of the worst disasters of the war for the Confederate States Army. John Bell Hood's Army of Tennessee conducted numerous frontal assaults against fortified positions occupied by the Union forces under Maj. Schofield and was unable to break through or to prevent Schofield from executing a planned, orderly withdrawal to Nashville. The Confederate assault of six infantry divisions containing eighteen brigades with 100 regiments numbering almost 20,000 men, sometimes called the "Pickett's Charge of the West", resulted in devastating losses to the men and the leadership of the Army of Tennesseefourteen Confederate generals (six killed, seven wounded, and one captured) and 55 regimental commanders were casualties.
After its defeat against Maj. Thomas in the subsequent Battle of Nashville, the Army of Tennessee retreated with barely half the men with which it had begun the short offensive, and was effectively destroyed as a fighting force for the remainder of the war. The 1864 Battle of Franklin was the second military action in the vicinity; a battle in 1863 was a minor action associated with a reconnaissance in force by Confederate cavalry leader Maj. Earl Van Dorn on April 10. This listing includes the complete entire original newspaper, NOT just a clipping or a page of it.
Every item we sell is an original newspaper printed on the date indicated at the beginning of its description. This is truly SIX CENTURIES OF HISTORY that YOU CAN OWN! Goldman is a consultant to the Freedom Forum Newseum and a member of the American Antiquarian Society.
Let our 45+ years of experience work for YOU! We have hundreds of thousands of historical newspapers (and their very early precursors) for sale. The item "1865 Confederate Civil War newspaper w BATTLE OF FRANKLIN-Nashville TENNESSEE" is in sale since Monday, April 29, 2019.
This item is in the category "Collectibles\Paper\Newspapers\Pre-1900". The seller is "qrst" and is located in Oxford, Maryland. This item can be shipped worldwide.

---