2 Framed Civil War Albumen Photos 5th Connecticut Infantry Band Musician Soldier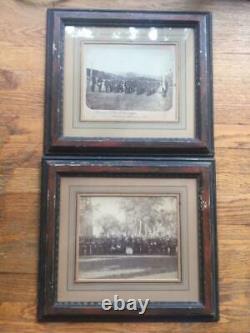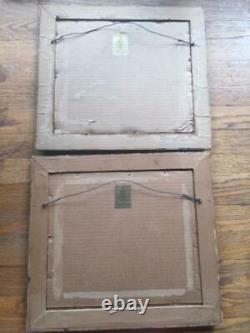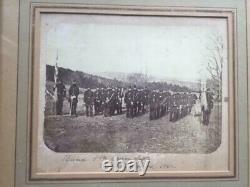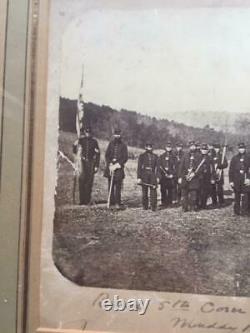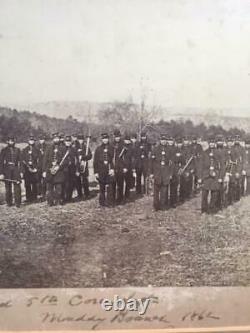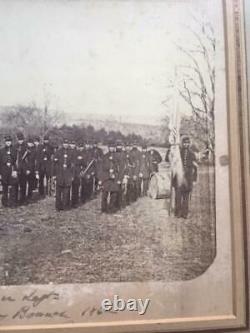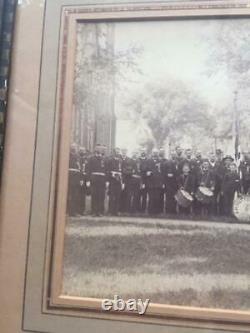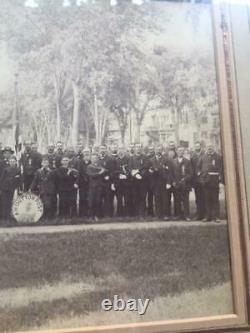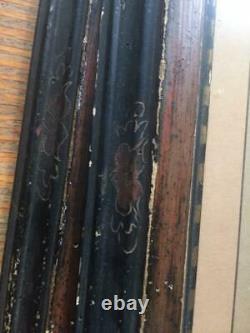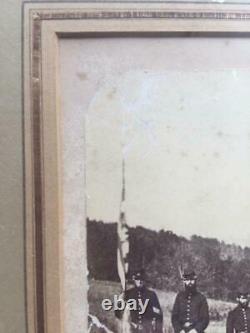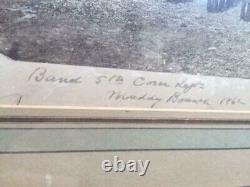 Here is a truly wonderful pair of antique albumen images framed in matching antique folk art style frames. The first image shows the 5th Connecticut Infantry band posed in the field with their instruments. I count 27 men in all in their uniforms and 2 men are holding flags.
The period ink inscription at the bottom states Band 5th Conn. Muddy Branch 1862 (I believe this was in Maryland) The second image shows a Grand army of the Republic reunion of what I would guess to be the surviving members of the men in the first photo as well as their children. I count 42 people in this photograph. Most of the men appear to be wearing GAR medals and the children are posed as drummer and fifers. The large drum in the center says A.
R (and the number 36 in the middle) The A. Dutton Post looks to have been in Wallingford CT.
The albumens are matted with the original antique mat board which still displays well. In my opinion, the frames just add to the character.
They both have a wonderful folk art feel to them. The frames are in no way perfect scratches, scuffs, etc. But that is how I always preferred them, showing their age. The glass front measures 10.5" by 12" and the frames measure 13.5" by 15" I've had these hanging by my desk for years and feel that it is time for someone else to enjoy them.
These are guaranteed to be true original 1800s photographs and frames. If you need additional photos or have any questions, please feel free to ask. Below is some history of the 5th Conn. The 5th Connecticut Infantry was organized at Hartford. And mustered in for a three-year enlistment on July 26, 1861, under the command of Colonel. The regiment was attached to George H. Thomas' Brigade, Banks' Division, to October 1861. Gordon's Brigade, Banks' Division, Army of the Potomac. 1st Brigade, 1st Division, Banks' V Corps. And Department of the Shenandoah. 1st Brigade, 1st Division, II Corps. 1st Brigade, 1st Division, XII Corps.
Army of the Potomac and Army of the Cumberland. 2nd Brigade, 3rd Division, XX Corps.
Army of the Cumberland, April 1864. 1st Brigade, 1st Division, XX Corps to June 1865.
2nd Brigade, Bartlett's Division, XXII Corps. The 5th Connecticut Infantry mustered out of service July 19, 1865. The 5th Connecticut left Connecticut for Baltimore, Maryland. They then moved to Harpers Ferry, West Virginia.
(then still technically part of Virginia) on July 30, and did duty there until August 16. Next they did guard and outpost duty on the Upper Potomac until February 1862. At the same time they were involved in operations near Edward's Ferry October 2024, 1861.
4 and 5 from December 1720, 1861. They advanced on Winchester, Virginia. Occupation of Winchester March 12. March 18, returning to Winchester March 19.
At Strasburg till May 20. Retreat to Winchester May 2025. Action at Front Royal May 23.
Battle of Winchester May 2425. Retreat to Martinsburg and Williamsport May 25-June 6. At Williamsport until June 10. Moved to Front Royal June 1018. Reconnaissance to Luray June 2930.
Moved to Warrenton, Gordonsville, and Culpeper, July. Reconnaissance to Raccoon Ford July 28 (Company I). Pope's Campaign in Northern Virginia August 6-September 2.
Battle of Cedar Mountain August 9. Battle of Bull Run August 2930. Duty at Frederick until December 10. March to Fairfax Station December 1014, and duty there until January 19, 1863.
Moved to Stafford Court House January 1923, and duty there until April 27. Chancellorsville Campaign April 27-May 6. Battle of Chancellorsville May 15.
They were in the Gettysburg Campaign. From June 11-July 24, 1863.
At this point they shifted from the Virginia/West Virginia/Maryland/Pennsylvania region to Alabama, Tennessee and Georgia. March to Brandy Station, then to Bealeton and movement to Stevenson, Alabama. Guard duty along Nashville and Chattanooga Railroad. At Cowan and Cumberland Tunnel until April 1864. Demonstration on Rocky Faced Ridge May 811.
New Hope Church May 25. Operations on line of Pumpkin Vine Creek and battles about Dallas, New Hope Church, and Allatoona Hills May 26-June 5. Gilgal or Golgotha Church June 15. Kolb's Farm June 22. Assault on Kennesaw June 27.
Ruff's Station, Smyrna Camp Ground July 4. Siege of Atlanta July 22-August 25.
Operations at Chattahoochee River Bridge August 26-September 2. Occupation of Atlanta September 2-November 15. March to the Sea November 15-December 10.
Siege of Savannah December 1021. Thompson's Creek, near Chesterfield, S. Occupation of Goldsboro March 24. Advance on Raleigh April 913. Occupation of Raleigh April 14.
Bennett's House April 26. Surrender of Johnston and his army.
Grand Review of the Armies. The regiment lost a total of 193 men during service; 6 officers and 104 enlisted men killed or mortally wounded, 1 officer and 82 enlisted men died of disease. The item "2 Framed Civil War Albumen Photos 5th Connecticut Infantry Band Musician Soldier" is in sale since Tuesday, May 28, 2019.
This item is in the category "Collectibles\Militaria\Civil War (1861-65)\Original Period Items\Photographs". The seller is "ghost*of*tom*joad" and is located in Bartlesville, Oklahoma. This item can be shipped worldwide.

---