Civil War period Stereoview Photograph by Mathew Brady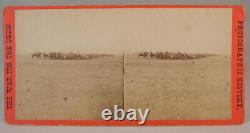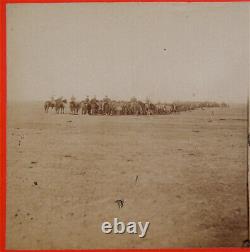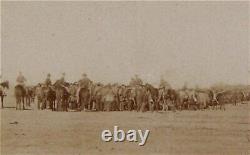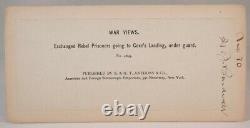 Civil War Photos Broadsides Posters Memorabilia Collectibles For Sale. Civil War period Stereoview Photograph. By Mathew Brady (Abe Lincoln's photographer).
Amazing piece of Americanand Civil War Hisgtory! Very rare and original, 1860's Civil War period Stereoview Photograph by Mathew Brady depicting a large group of Confederate Prisoners of War headed to Cox Landing where they will be exchanged for Union Prisoners. This fascinating and original, flat mount stereo photo measures approx. 7" by 3 1/2" and is mounted on its original, orange colored card mount.
There is printed text on the front of the mount that identifies the View as being from the series titled "The War For the Union". The outstanding Photo is titled on the label at the back War Views / Exchanged Rebel Prisoners going to Coxe's Landing, under guard.
The Stereoview is from "The War For the Union" Series taken by Brady Photographers. The Stereoview offered here, was printed from Brady's original negatives and published by E. The back of the mount also features the ink signature of Sergeant Henry J. Bardwell and a numerical identification in his hand. This Stereoview was originally Sergeant Bardwell's personal possession. Bardwell worked as a carpenter in Amherst, MA before enlisting as a private on September 7, 1861. Nearly two weeks later, he was mustered into Company "D" of the 27th Massachusetts Infantry, in which capacity he joined Burnside's North Carolina Expedition of 1862 (serving aboard the US Steamer Pilot Boy off Hatteras in February) and performed signal duty at the Battle of Fredericksburg that December. The following year, Bardwell was officially transferred to the US Army Signal Corps in August, and participated in the siege of Knoxville in November. After the war, he was a member of multiple GAR posts in Massachusetts and held office as a post commander in Boston before dying in June of 1923. This Photograph was taken by one of the photographers working for Mathew Brady (possibly Timothy O'Sullivan) and was published by E.
This very rare and original, Civil War Stereoview Image features a truly fascinating view of a large group of Confederate Soldiers almost being "herded" by Union Soldiers on horseback. They then would have been marched under guard to Coxe's Landing where they would have embarked on a Confederate transport which had delivered the Union soldiers who were being exchanged. While we have owned dozens of Brady Stereoviews of Rebel POWs over the past 41+ years, we have never encountered this particular view before and we believe it to be very rare. This fascinating and very rare, Civil War Stereoview Photo is in excellent condition.
The Photos exhibit soft focus (due to the distance at which the original image was taken) and good contrast and tonality. Both the Photographs and the card mount are clean and crisp and well preserved.

---