CIVIL War Union Maj Gen John F Reynolds Gettysburg Markers Stereoview Photo 1870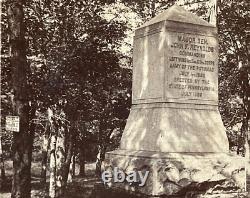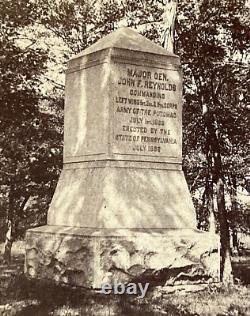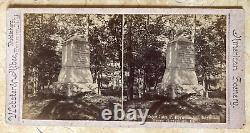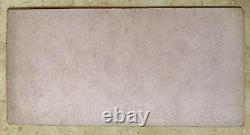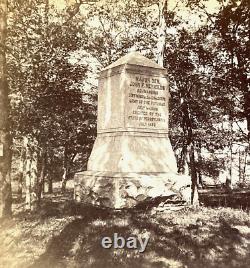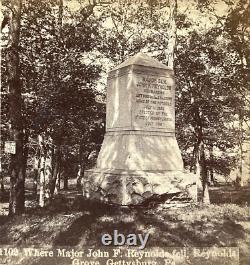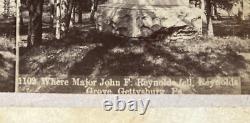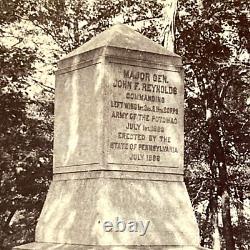 ORIGINAL - CIVIL WAR UNION MAJ. REYNOLDS GETTYSBURG MARKERS STEREOVIEW PHOTO 1886. REYNOLDS GETTYSBURG MARKERS STEREOVIEW PHOTO 1870. THE STONE MONUMENT AND THE ORIGINAL WOODEN MARKER ARE SEEN TOGETHER IN THIS RARE STEREO VIEW PHOTO FROM c. LOOKING TO THE LEFT OF THE STONE MONUMENT MARKER FROM 1886 IS THE SMALLER HAND LETTER PAINTED RECTANGULAR WOODEN MARKER FROM YEARS EARLIER EYE WITNESS ACCOUNTS.
IT'S NAILED UP ON A TREE PLACED TO REMEMBER THE LOCATION OF THE GENERAL'S DEATH UNTIL A MORE PERMANENT MARKER TO BE PLACED. THE ORIGINAL WOOD MARKER IS PARTIALLY READABLE STATING. WAS KILLED JULY 1st 1863. AN EARLIER PICTURE PRIOR TO THE MONUMENTS CONSTRUCTION OF THE ORIGINAL LETTER PAINTED WOODEN MARKER IN THIS LISTING IS NOT INCLUDED AND IS FOR REFERENCE ONLY.
21, 1820 - July 1,1863 was a career United States Army officer and a general in the American Civil War. One of the Union Army's most respected senior commanders, he played a key role in committing the Army of the Potomac to the Battle of Gettysburg and was killed at the start of the battle. DIMENSIONS: 3 1/2" x 6 7/8". SHARP FOCUS WITH VERY GOOD CONTRAST.
ID'd IN THE NEGATIVE ON THE LOWER RIGHT (INCORRECTLY STATED AS MAJOR). 1102 Where Major John F. Reynolds fell Reynolds Grove Gettysburg Pa. Webster & Albee Publishers Rochester NY.
THIS IS NOT A COPY OR A REPRODUCTION.

---