Collectors Showcase CIVIL War Confereracy 11th Virgina Full Set Free Shipping Us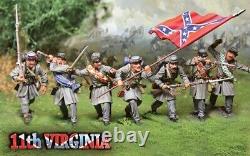 COLLECTORS SHOWCASE CIVIL WAR CONFERERACY 11TH VIRGINIA. This set is strictly limited edition run and wont be produced anymore.
This set includes FULL set of the 11th Virginia. This set includes all the figures and is a original thecollectorsshowcase set from his stock. Message me if you have questions about this set!

---