Court of Inquiry into General Gouvernor K Warren's actions at Five Forks Battle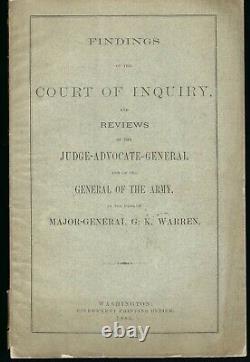 Condition as seen, 60 Page Booklet publishing the Findings of the Court of Inquiry into the actions of V Corps Commander Gouvernor K Warren at the Battle of Five Forks. General Sheridan had removed Warren from command during the battle due to incorrect information tarnishing Warren's reputation. Warren after the War reverted to his regular rank of Major of Engineers and had requested a Court review of his actions in trying to clear his name. These are the findings from that Court Trial. During these Virginia campaigns, Warren established a reputation of bringing his engineering traits of deliberation and caution to the role of infantry corps commander.
He won the Battle of Globe Tavern, August 18 to August 20, 1864, cutting the Weldon Railroad, a vital supply route north to Petersburg. He also won a limited success in the Battle of Peebles' Farm in September 1864, carrying a part of the Confederate lines protecting supplies moving to Petersburg on the Boydton Plank Road. Philip Sheridan, a key subordinate of Lt. Grant, was dissatisfied with Warren's performance. He was angry at Warren's corps for supposedly obstructing roads after the Battle of the Wilderness and its cautious actions during the Siege of Petersburg.
At the beginning of the Appomattox Campaign, Sheridan requested that the VI Corps be assigned to his pursuit of Lee's army, but Grant insisted that the V Corps was better positioned. He gave Sheridan written permission to relieve Warren if he felt it was justified "for the good of the service". [10] Grant later wrote in his Personal Memoirs, [11].
I was so much dissatisfied with Warren's dilatory movements in the battle of White Oak Road and in his failure to reach Sheridan in time, that I was very much afraid that at the last moment he would fail Sheridan. He was a man of fine intelligence, great earnestness, quick perception, and could make his dispositions as quickly as any officer, under difficulties where he was forced to act. But I had before discovered a defect which was beyond his control, that was very prejudicial to his usefulness in emergencies like the one just before us. He could see every danger at a glance before he had encountered it.
He would not only make preparations to meet the danger which might occur, but he would inform his commanding officer what others should do while he was executing his move. Gerhardt's statue of Warren on Little Round Top in Gettysburg. At the Battle of Five Forks on April 1, 1865, Sheridan judged that the V Corps had moved too slowly into the attack, and criticised Warren fiercely for not being at the front of his columns.
Warren had been held up, searching for Samuel W. Crawford's division, which had gone astray in the woods. But overall, he had handled his corps efficiently, and their attack had carried the day at Five Forks, arguably the pivotal battle of the final days.
Nevertheless, Sheridan relieved Warren of command on the spot. [12] He was assigned to the defenses of Petersburg and then briefly to command of the Department of Mississippi. Humiliated by Sheridan, Warren resigned his commission as major general of volunteers in protest on May 27, 1865, reverting to his permanent rank as major in the Corps of Engineers. He served as an engineer for 17 years, building railroads, with assignments along the Mississippi River, achieving the rank of lieutenant colonel in 1879. But the career that had shown so much promise at Gettysburg was ruined.
He urgently requested a court of inquiry to exonerate him from the stigma of Sheridan's action. Numerous requests were ignored or refused until Ulysses S. Grant retired from the presidency.
Hayes ordered a court of inquiry that convened in 1879 and, after hearing testimony from dozens of witnesses over 100 days, found that Sheridan's relief of Warren had been unjustified. On November 21, 1881 President Chester Alan Arthur directed that the findings be published; no other action was taken. [13] Unfortunately for Warren, these results were not published until after his death. This item is in the category "Collectibles\Militaria\Civil War (1861-65)\Original Period Items\Other Civil War Original Items". The seller is "civil_war_photos" and is located in this country: US.
This item can be shipped worldwide.
Modified Item: No
Theme: Militaria
Original/Reproduction: Original
Conflict: Civil War (1861-65)

---