Great BATTLE OF GETTYSBURG Confederate Capital Richmond VA Civil War 1863 News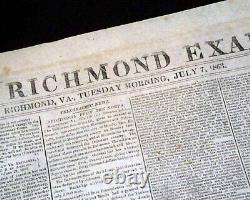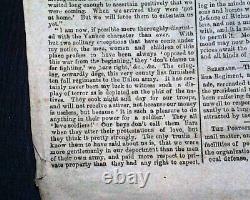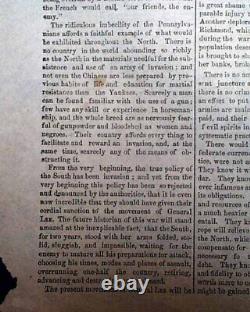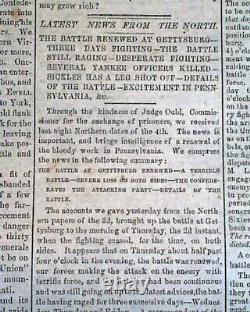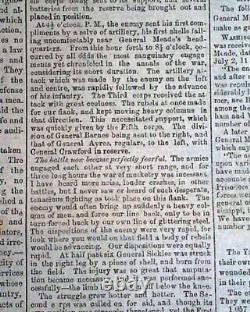 Great BATTLE OF GETTYSBURG Confederate Capital Richmond VA Civil War 1863 News. Offered is an original, historic, & collectible old newspaper: DAILY RICHMOND EXAMINER, Virginia, July 7, 1863 Fantastic Battle of Gettysburg Coverage Rare Confederate title from rebel capital The front page has various war items including: "The Army of the Pamunkey--The Attack on the South Anna Bridge". There is also a great front page letter datelined "Chambersburg, Pennsylvania, June 25, 1863" which is prefaced with.
Manifesting the spirit that inspires the bold, intelligent youths who make up the bulk of the Confederate army. And the letter includes in part. The cringing, cowardly dogs, this very county has furnished ten full regiments to the Union army... This is followed by another letter datelined Carlisle, Penna. So far our march of invasion has met with little resistance...
Over half of the ftpg. Is taken up with: Acts & Resolutions of the Congress, The Confederate States...
The back page has some terrific & very historic content on the Battle of Gettysburg, with: "Latest News From The North" "The Battle Renewed At Gettysburg--Three Days Fighting--The Battle Still Raging--Desperate Fighting--Several Yankee Officers Killed--Sickles Has a Leg Shot Off--Details of the Battle--Excitement In Pennsylvania" with prefacing comments noting the news has arrived from the 4th of July, and that it. Brings intelligence of a renewal of the bloody work in Pennsylvania...
Which is followed by nearly three columns of reporting on this decisive battle of the Civil War. A related item in this account notes. President Lincoln has never stood before the country in a worse light than at this moment... And more, and further on are subheads: "The Exaggeration in the Accounts Given of Battle--The Bosh and Blatherium of Military Phases--What is Meant by'Fighting Like Fiends'--How Ridiculous Are Such High Sounding Phrases".
The back page also has a great editorial relating to Gettysburg, a portion of it including. We have not space to analyze Meade's lying dispatches about the Battle of Wednesday... The ridiculous imbeccility of the Pennsylvanians affords a faithful example of what would be exhibited throughout the North... Scarcely a man can be found familiar with the use of a gun, few have any skill or experience in horsemanship, and the whole breed are as nervously fearful of gunpowder & bloodshed as women and negroes...
A great wealth of historic reporting--and early on Gettysburg for a Confederate newspaper--with great editorial comment, and letters from Confederate soldiers just before the battle as well. Complete as a single sheet newspaper, some very minor wear at the margins, generally in very nice condition. Please Note: All of our offerings are 100% authentic!
We do not offer reprints or reproductions of any kind. They are guaranteed to be original! Links to Archival Storage Options & Certificates of Authenticity Are Below!
Historical reports may be beautiful or ugly, but they are always informative. While we rejoice in the beautiful heroic, discovery, amazing feats, etc.
, we at History's Newsstand also offer "the ugly" for we are determined to learn from the wrongs of the past - understanding, to do so, we must be willing to look these wrongs directly in the face and shout NO MORE! It is for this reason many Black Americans collect historic slave ads, Jews collect reports regarding the Holocaust, women collect coverage of the Women's Suffrage Movement, etc..
If you find any to be offensive, we agree! Hopefully this is an indication we are moving in the right direction. For this specific item, A U.
The S&H will be calculated by using the highest item's S&H as the base cost, and then adding a small amount for each additional newspaper. The per-item additional cost for newspapers, folders, portfolios, and presentation cases vary according to size and weight. We will still provide tracking and insure them at our expense. Are not included in our quoted S&H. If You Are Unhappy With Your Order. We have been both collectors and dealers in rare newspapers since 1975, serve as consultants to multiple museums, and are members of both the Ephemera Society of America and the American Antiquarian Society. Knowing every item we offer is guaranteed to be authentic. Timothy Hughes Rare Newspapers P. Desiring to conduct ourselves honorably in all things. Were it left to me to decide whether we should have a government without newspapers, or newspapers without a government, I should not hesitate a moment to prefer the latter.

---