Investment Grade Civil War Cavalry Corps 2nd Iowa Badge, Greierson's Raid, Wilso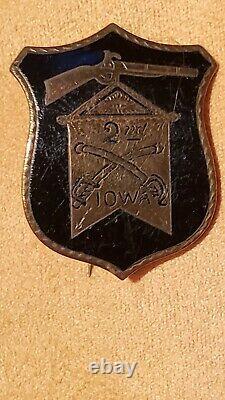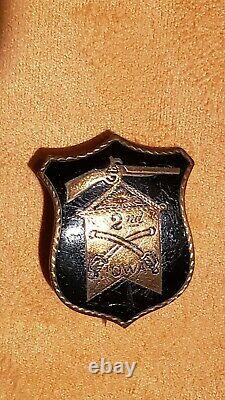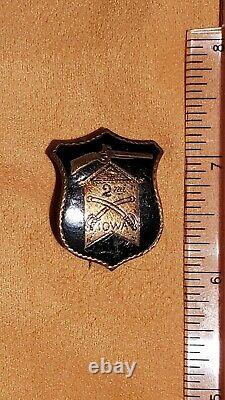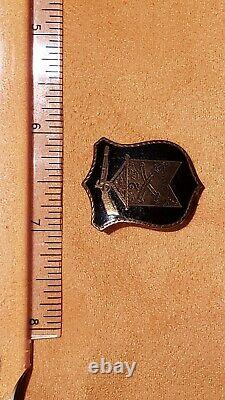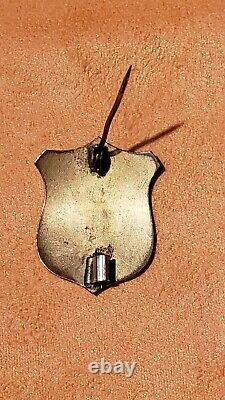 Original 2nd Iowa Cavalry medal. Enameled badge with inscription "2nd Iowa", with Cavalry Carbine, Crossed Sabers and Swallowtail Cavalry Flag. What makes this piece especially unique is that the 2nd Iowa Cavalry road on the famous Greierson Raid. At the end of this listing I will post a summary of that famous, most effective Cavalry raid of the Civil War. Additionally the 2nd Iowa Cavalry was a regiment attached to Wilson's Cavalry Corps, which was very effective using speed, maneuverability, and superior weapons to wreck havoc behind Southern Lines in both Alabama and Georgia. They also engaged with distinction at the major battles of Corinth, Franklin, and Nashville. This badge features silver inlay and border trim complimenting an enameled shield shaped badge with a correct hinge-pin on the back. As is visible in the photos, measures 1.25" long and 1" wide. The enamel has surface abrasions as seen in the photos. I have been collecting and dealing primarily in American Civil War edged weapons, firearms and militaria for over 30 years. I frequently travel to specialized and general trade shows, conventions, auctions, and private sales and viewings all over the country, and maintain a network of the most reputable collectors and dealers in the community, and limit all my acquisitions to this network. My objective is to both collect for myself, and to bring to you only truly authentic, investment grade military collectables. Griersons Raid was probably the most effective cavalry raid of the entire American Civil War.
While many of the most famous cavalry raids were launched by Confederate leaders such as JEB Stuart. Or Nathan Bedford Forrest, this was a Union raid. It was commanded by Benjamin Grierson, who despite pre-war dislike of horses quickly proved himself to be a brilliant cavalry commander. His raid was part of U.
Successful campaign against the Confederate stronghold of Vicksburg, on the Mississippi River. Grants infantry were marching down the west bank of the river, getting into a position from where they could cross over onto the east bank south of Vicksburg. Grierson was ordered to launch a raid through the heart of the state of Mississippi, to distract Confederate attention from Grants move, and force the Confederates to move troops away from the city.
Starting from La Grange, Tennessee, Griersons aim was to reach the Southern Railroad of Mississippi, and destroy as much of it as possible. From there he could either return to La Grange, or head south to the Union position at Baton Rouge, Louisiana. He started with three regiments, some 1,700 men.
One of the reasons for his success was that he was willing to split this force. After that he continued south, fighting a series of minor skirmishes (the Official Records list eleven), and avoiding any of the larger Confederate force chasing him. On 24 April the expedition reached the South Railroad, and did some considerable damage. Grierson now learnt that some large Confederate detachments were behind him, and decided to continue south to Baton Rouge. The journey continues as before. Small detachments confused Confederate attempts to find the main expedition, and on 2 May Greirsons men reached safety at Baton Rouge. Griersons men had marched 600 miles in 16 days. They had only lost three dead and seven wounded, as well as eight men who had to be left behind sick, and nine men missing. In his report Greirson claims to have killed and wounded 100 Confederates, captured 500, destroyed between 50 and 60 miles of railroad, destroyed over 3,000 stand of arms, and captured 1,000 horses and mules. At the end of the raid, Grierson was aware of at least 5,000 men who had been sent out to capture him. That included a considerable amount of Pembertons cavalry from Vicksburg, detached at a crucial moment, when they would have been better used to watch Grant on the Mississippi. Griersons Raid was the most successful cavalry raid of the war for two reasons. First, it played a direct role in the success of the main expedition against Vicksburg. Many of the Confederate raids had no more than nuisance value.
Stuarts ride around McClellans army on the Peninsula in the previous year could claim a similar significance, playing a part in the defeat of that army. However, Griersons second achievement was to take a large cavalry force through entirely hostile territory in the heart of the Confederacy. Stuart had been operating in Virginia, while other Confederate cavalry raids were made in friendly parts of Kentucky and Tennessee.
Griersons raid was an early example of the Unions ability to bring the war to the heart of the Confederacy, to be repeated on a larger scale by Sherman in Georgia and the Carolinas over the next two years. Rickard, J (3 September 2007). Griersons Raid, 17 April- 2 May 1863.
The item "Investment Grade Civil War Cavalry Corps 2nd Iowa Badge, Greierson's Raid, Wilso" is in sale since Sunday, July 4, 2021. This item is in the category "Collectibles\Militaria\Civil War (1861-65)\Original Period Items\Medals, Pins & Ribbons". The seller is "rogercillo" and is located in Wilmington, Delaware. This item can be shipped worldwide.
Modified Item: No
Country/Region of Manufacture: United States
Theme: Militaria
Original/Reproduction: Original
Type: Medal
Conflict: Civil War (1861-65)

---