Jan 30 1865 Soldier Letter Point of Rocks Hospital Chesterfield County Virginia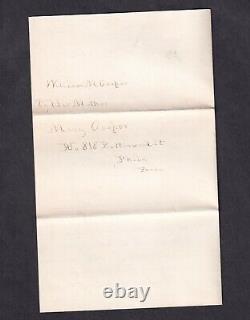 January 30 1865 4-page Wounded Soldier's Letter "Point of Rocks Hospital" in Chesterfield County Virginia. William Cooper is writing to His Mother, Mary Cooper, at 818 Buttonwood Street in Philadelphia. Regretfully, I do not have the original envelope. From the Internet (which has "then" and "now" photos in an easy search).
Shortly after the Army of the James landed in Bermuda Hundred, a field hospital was established here at Point of Rocks by the United States Army. The hospital originally consisted of tents set up in the orchard around the Strachan House. The tents were 50 feet long and contained enough cots and bunks to accommodate 40 or more patients. Sometimes when crowded, patients had to lie on straw bags with a blanket on the bare ground.
As the Bermuda Hundred Campaign gave way to the Siege of Petersburg the hospital developed into large complex of wood buildings. The hospital was organized into divisions to distribute patients according to disease. Moses Greeley Parker, a surgeon here, described one division as consisting of 17 wards, each 80 feet long, 20 feet wide and 8 feet high, built of logs and grouped like a horseshoe on the bluff.
Other divisions contained 8 wards that were each 250 feet long, 30 feet wide and 15 feet high. These large wards could accommodate 180 patients each.
It is estimated that over 3,000 patients would have been here at any given time. When the Civil War began, Clara Barton was employed as a clerk in the U. Following the First Battle of Bull Run, she began to organize efforts to raise donations for much needed medical supplies for the troops. Her ability to organize relief efforts earned her a pass which allowed her to travel with army ambulances.
In early June 1864, Clara Barton arrived at Point of Rocks Hospital. The hospital at that time consisted of twenty lines of long, white tents and served the 18th Corps of the Army of the James. Miss Barton was placed in charge of nursing and diet for the section of the hospital that cared for United States Colored Troops units of the 18th Corps. Miss Barton and her staff also made meals and did laundry for the men. Your kind letter of the 25.
Inst containing 50cts has come to hand and I hasten to answer it. I thank God fervently that you are able to be downstairs and about again. Last night I helped to wash and dry out a poor fellow soldier who has given his life for his country although he was not killed by a cannon shot or shrieking shell or the whistling bullet, yet he gave his life for his country's good just as much as though he had been. I wrote to albert and also to Lou night before last but I did not send them until yesterday. There was a report about yesterday afternoon the Rebels were evacuating Richmond.
I won't know how true it is although I wish it may be so for when they leave then I think they are done with this war. They are deserting by the dozen every day and are coming into our lines along the whole length of them and you can indulge what they are when I tell you that our lines are nearly forty miles in length. From the extreme right to the extreme left they cross two Rivers, the James and Appomattox and compose of Forts, Redoubts and the concourse Earthworks, for in factory.
It is a beautiful day, almost like Spring. Give my love to James and Family, also to all my friends. Remember me to the folks at the Corners Shusters and all others. Your affectionate son, William M.
William Cooper To His Mother, Mary Cooper, No 818 Buttonwood St. Sometimes I will require this to protect us both. This item is in the category "Collectibles\Militaria\Civil War (1861-65)\Original Period Items\Other Civil War Original Items". The seller is "ivymontcpa" and is located in this country: US.
This item can be shipped worldwide.

---