P G T Beauregard Signature Card July 1865 from New Orleans with Image in Frame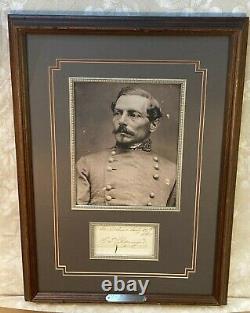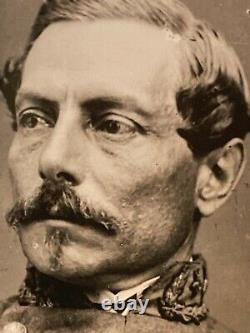 P G T Beauregard Signature Card. July 1865 from New Orleans w/ Image in Frame Famous Civil War Confederate General. Would make a great gift or keep for yourself!
Very nice signature capture of General Beauregard here. No Certificate of Authenticity came with the piece. We have looked closely at the ink and paper and compared the writing to other legitimate ones on file and appears to be original. At same time we do not purport to be experts of Beauregard's signature. We can therefore better control our acquisition costs, keep commission costs low (if applicable), and finally, we don't have the overhead that the higher end houses and art galleries experience.
The image of Beauregard is a reproduced picture of some sort done in black and white. Great capture of him in his uniform near the end of the Civil War. The paper the signature is done on appears to have age to it. The ink has also turned brown with age as is expected with ink of those times.
Faint blue horizontal lines can be seen on the signature card. There is a silver plaque at the bottom of the frame that is engraved in cursive with, " P G T Beauregard CSA General". A vintage paper sticker on the backing paper that speaks to a short biography of the General and refers to negative no. There is a pocket in the backing paper that may have had other papers of documentation or a COA in it, but no longer there. We did take the backing paper off, to get some residue out from other the glass, and then re-taped the original backing paper in place. This Antique Signature and Picture of General Beauregard in frame is 21-1/8" tall, by 15-5/8" across, by 1.5.
The signature card with the matting is Print showing thru the matting is 2-3/8" tall, by 4-5/8" across. Beautifully darkish brown wood frame Some minor finish loss to the frame. Nice gray, red, and white matting around the signature and picture.
Silver beading around the picture and the signature card. Frame joint getting a little loose in the lower left corner. We cannot speak to the authenticity of the piece as noted earlier. We would recommend that you or your agent come and view the piece in person yourself to make your decision about before acquiring.
A brief biography of this Civil War General from the internet. Pierre Gustave Toutant-Beauregard (May 28, 1818 - February 20, 1893) was a Confederate general officer who started the American Civil War by leading the attack on Fort Sumter on April 12, 1861. Today, he is commonly referred to as P. Beauregard, but he rarely used his first name as an adult. He signed correspondence as G.
Trained in military and civil engineering at the U. Military Academy, West Point, Beauregard served with distinction as an engineer officer in the Mexican-American War. Following a brief appointment as superintendent of the U. Military Academy in 1861, and after Louisiana seceded, he resigned from the United States Army and became the first brigadier general in the Confederate States Army. He commanded the defenses of Charleston, South Carolina, at the start of the Civil War at Fort Sumter on April 12, 1861. Three months later he won the First Battle of Bull Run (First Manassas) near Manassas, Virginia. Beauregard commanded armies in the Western Theater, including at the Battle of Shiloh in Tennessee, and the Siege of Corinth in northern Mississippi. He is most known for his defense of the industrial city of Petersburg, Virginia from Union troops, in June 1864, which delayed the eventual fall of the confederate capital Richmond, Virginia in April 1865. His influence over Confederate strategy was lessened by his poor professional relationships with President Jefferson Davis and other senior generals and officials.
In April 1865, Beauregard and his commander, General Joseph E. Johnston, convinced Davis and the remaining cabinet members that the war needed to end. Johnston surrendered most of the remaining armies of the Confederacy, including Beauregard and his men, to Major General William Tecumseh Sherman.
Let us know if you have any questions or need additional pictures. Make sure that this item meets your needs and requirements before deciding to acquire it. So again, ask all questions you have, come see in person or send a friend to see the item on your behalf, prior to deciding to acquire it. Please check out our other Timeless Tokens store listings as we are regularly adding new items.
We specialize in antique and vintage artwork, books, collectibles, furniture, musical instruments, clocks, and decorative boxes. Select countries (disclosed in individual item description). All items are as described, with any item history, known defects or imperfections disclosed in each listing. Welcome to Timeless Tokens our online store offer antiques, collectibles, and conventional merchandise for every need and occasion.
Timeless Token represents the fulfillment of a long-held dream to create a business that allows us pursue our passion for finding unique collectibles and everyday items that can be shared with and appreciated by all. Our listings are updated regularly and focus on items that we know best - vintage artwork, books, clocks, collectibles, furniture, toys/model trains, musical instruments, and decorative boxes. We appreciate your taking the time to visit our store, and hope you will provide us feedback that will enable us to make your shopping experience the best it can be. This item is in the category "Collectibles\Militaria\Civil War (1861-65)\Original Period Items\Other Civil War Original Items".
The seller is "hallboys321" and is located in this country: US. This item can be shipped worldwide.
General P G T Beauregard Signature Card: 1865 Signature of General Beauregard
Civil War Signature of CSA General: Confederate General Beauregard's Signature & Pic

---