Rare 1880 GEN WINFIELD SCOTT HANCOCK BIOGRAPHY, CIVIL WAR HISTORY Book, Inscribd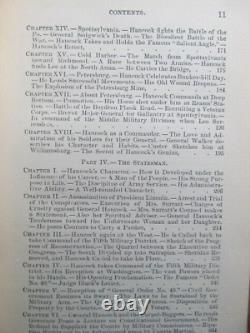 Rare Early 1880 Antique Biography of Maj. Commander of the Famous 2nd Corps, Wounded at Gettysburg, Officer in Charge at the 1865 Execution of the Lincoln Assassination Conspirators. DESCRIPTION: Rare, really nice early biography of one of the most successful Civil War leaders.
Named after the early, famous General of the Army during the War of 1812 and the Mexican War, Winfield Scott. Rose to command the famous 2nd Corps. Seriously wounded during Pickett's Charge on the 3rd day of Gettysburg. Was the officer in charged during the EXECUTION OF THE LINCOLN ASSASSINATION CONSPIRITORS and shown in the pictures of them on top of the gallows. One of the early Civil War histories written during the 1880's when it became fashionable.
One of the best biographies written during that period. A really nice book with illustrations. VERY UNUSUAL AS IT HAS OWNER'S NAME, T. IT OBVIOUSLY HAD A GREAT DEAL OF MEANING TO HIM.
Was he in the 2nd Corps? Loaded with information about all aspects of the Civil War and Hancock's involvement in them. Has a great text and very readable for a history book.
MAKES A GREAT EARLY REFERENCE BOOK OR JUST GREAT EARLY READING. A great variety of chapter content, details, information, and content! In excellent condition for its age, including cover, binding, and pages. THIS WAS (AND IS) A VERY IMPORTANT BOOK ON A VERY INTERESTING HISTORICAL SUBJECT. A VERY HARD TO FIND EARLY, CIVIL WAR HISTORY BOOK COVERING THE DAY TO DAY FIGHTING AND CAMPAIGNS OF THE CIVIL WAR AND HANCOCK'S PART IN THEM. Would make a great gift for the collector or historian in your family. The few attached scans will not do it justice, but hopefully will provide an idea of content. I can assure you that you will be extremely pleased with the rarity and detailed content of it!! WONDERFUL READING AND AN EXCELLENT REFERENCE RESOURCE.

---