Scarce Civil War Ephemera 1863 New England Soldiers Relief Assoc. Concert Flyer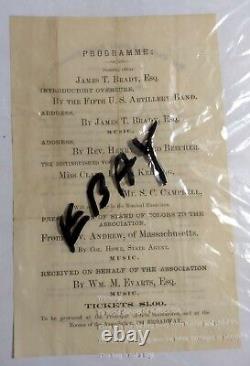 Scarce 1863 Flyer/program for a Grand Patriotic "Re-Union" at the Academy Of Music in NYC. Held by the New England Soldiers' Relief Fund Association that fed and provided for Union troops.
The event had multiple speakers and featured Clara Kellogg singing. I haven't found much about the event online, other than on a site dedicated to Miss Kellogg. It mentions she performed there and had a blurb from a newspaper review.
It's in good condition for its age though it shows some discoloration and creasing from being folded. It measures just about 5.5x8.5 inches.
Please see my photos for details. I apologize for the quality of the images. I want the new owner to have the only full copy.
This is possibly the only example.

---